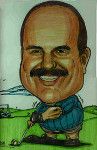 For 20 years, I worked as and Engineering Manager for Intel Corporation working on a variety of projects delivering complex new products, technologies, factories and processes. During that time I learned to deliver projects on time with professional results and great customer service.
My Intel career started in California and also included lengthy expat assignments in Manila and Shanghai. During my time in Asia, I developed my first website in 1998 as a way to show my friends back home, my adventures in the Far East.
Over time, I've developed my web skills building sites for golf groups, charities, schools and businesses. Along the way, I've used HTML, JavaScript, CSS, ASP, PHP and MySQL languages. For the last decade, I've been developing sites primarily using the Joomla Content Management System. My coding experience has proved useful in understanding and customizing Joomla and it's extensions when needed.
I reside in St. Petersburg Florida. From here, I provide web services for local, national and international clients.
When not on the web, I enjoy golf and travel.