"And so this is Christmas" - John Lennon
It's Christmas Eve. The tree is trimmed. The gifts are wrapped. I'm thrilled to have my beautiful daughter visiting St Petersburg for a while. We decided to risk the two hour flight from Chicago. But is that really riskier than her hanging with her college friends ? We'll find out in a few days as we drove thru a Walgreen's this morning and self swabbed our nostrils. Having done this several times now, I highly recommend the self swabbing versus having a nurse do it.
My boy and his girlfriend will be down after Christmas. The last thing to move to Florida is my old SUV which they're driving cross country for me.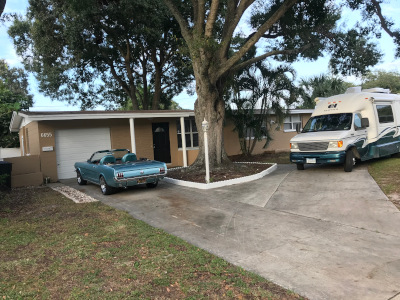 It's been a while since I've posted. I've been busy. I spent my first five Florida weeks in a nice Largo RV park while I shopped and closed on a house.
Closed on a Tuesday. Relocated my RV to my new driveway and slept there as my stuff from CA hadn't arrived yet.
That night a hurricane hit. Welcome to Florida ehhh ?
Wednesday morning my cell phone blares a warning signal. It says "if you're in a mobile home, get out".
OK...no problem. My new home 10 yards away is pretty much a 1200sq ft, cement block shelter.
Ooops, I guess there is a problem. I got no furniture !
So, I pull up the weather radar. Looks like there's a break in the storm coming. I know. I'll go buy a chair.
Now, the storm break is important because my available vehicle is a 1966 Mustang convertible. '66 convertibles leak and the ol' SUV is still in California. So off I go in search of a chair.
What looked like a one hour storm break turned out to be a 10 minute storm break. Cue the deluge. I got soaked.
But I did find an open consignment shop and a chair.
Another month later, my stuff from California is mostly unpacked. I've been picking up needed items here and there. The house is pretty well furnished.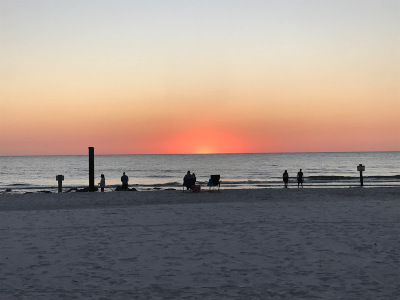 So far, life in St Pete is pretty good. I'm a few blocks from a 47 mile long bike trail. Five minutes from the beach. Ten minutes from a cool downtown. I'm on the wait list for a golf club five minutes away.
In the mean time, I get out for golf or an outdoor socially distanced meal with my buddies Brad, Swampy and their wives. Been catching sunsets on the Gulf beaches. There's a lot going on in St Pete and am most definitely looking forward to herd immunity so I can take full advantage.
In the mean time, here's wishing all happy, healthy, safe holidays and hoping everyone stays that way til they get us all vaccinated.