"Lord, I was born a ramblin' man" - The Allman Brothers
Downsizing from 3000+ square feet to a 27 foot RV you'd think I might be feeling cramped by now. I'm not. I'm quite comfortable and am in no rush to upsize.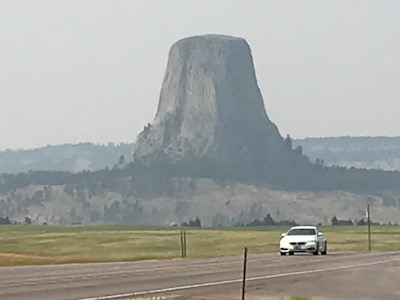 The trip east has gone in phases...
Western Wonders
Drove the beautiful and amazing Columbia Gorge. Parked the RV and grabbed a rental car to explore the Highway to the Sun in Glacier National Park. Entered the north entrance of Yellowstone and took the middle route visiting Mammoth Hot Springs, Geyser Valley, Yellowstone's Grand Canyon and cruising thru a herd of bison on my way east. On the way east caught the headwaters of the Missouri River and Devils Tower. Plenty of pictures of all can be found on my Facebook feed.
The RV parks around Yellowstone were full so I randomly found a couple of cool boondocking spots on the way in and out. 'In" was a highway rest stop on the banks of the Yellowstone River. "Out" was a secluded parking area in the middle of Shell Creek Canyon where I awoke to a truck departing after a ranger left a "don't do that' ticket on my windshield.
Friends and Family
Spent a few days in Chicago visiting my lovely daughter who is starting her 2nd year of college. It's her first year off campus so Dad had to checkout the neighborhood, the apartment and the roommates, all of which passed inspection.
Spent one night each visiting my two best buddies from college, the Bear and the Cub. On the way out of Chicago found a cool lakefront RV park at Weco Beach in Bridgman Michigan.
Moved on to my hometown of Corry PA and spent a few days visiting cousins and friends and cruising around old stomping grounds.
Next up was Mom. Mom, my sister and brother-in-law have been doing covid super careful quarantine since February. Not wanting to be the bearer of bad viruses, I've minimized contact the week after leaving Corry. I sacrificed my nostrils and got a Covid test which came back negative. Had a nice visit with the family and left bearing Mom's home baked cookies.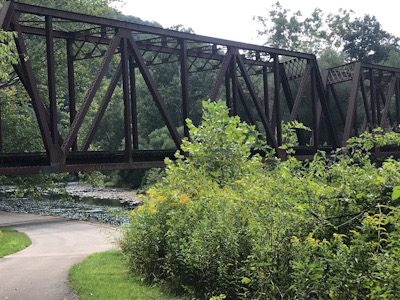 Found a great way to kill time isolated. Western PA is doing a really good job with bike trails. Highlights have included Presque Isle, Oil Creek State Park and the Armstrong Trail along the Allegheny. The Rails to Trails conversions have been really good on the trike where I like flat, scenic and shady,
I've been catching less famous but still good golf courses the last few weeks. The Golf Played total is now 431. The highlight was returning to the first course where my folks got me started at age 8. Sleepy Hollow in Sugarcreek PA hasn't changed much. It did reward me with a pitch in eagle on the short par 4, 7th.
So, what's next ? A couple of nights ago I used the heater for the first time. It works ! I'm taking that as the sign to start heading south. The details I'll figure out as I go.