"Every new beginning starts with some other beginning's end" - Semisonic
Monday morning I sat at my house a broken man.
Broken by U-haul of all things.
I got over it.
But first...how'd I get there...
Starting in December....
De-cluttering
Online and garage sales... featuring the great golf cart auction and the skunk who met his odorous fate after crawling into a buyers' warm engine compartment
Loads and loads to charity thrifts & library .... wait til the IRS sees this deduction
Loads more to storage
The parade of realtor candidates... picked the guy with the highest asking price and lowest commission.. which I think actually worked.
The kid getting sent home to finish her term online.... she nailed it.
Months of handymen, painters, cleaning ladies, window washers, stagers.... who I whipped into high gear trying to get listed before the looming Covid quarantine.
Only to get listed on St. Paddy's morning and have Newsome shut the state down that afternoon.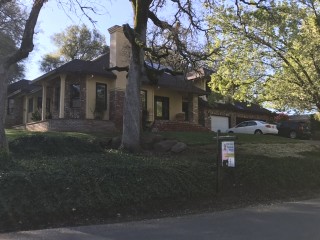 Cue the crickets..... 6 weeks of crickets... well at least we kept the golf course open.
The quarantine lifted a crack and potential buyers started coming... but no offers.
Then, one day my neighbor across the street's house went on the market. I saw a couple folks snooping around looking in her windows. Denise had already moved out so I went over to investigate. Turned out to be a nice couple trying to get a sneak peak at her house. I mentioned to them that mine was also for sale. Coaxed them across the street for an impromptu showing. Got an offer that night !
Turns out Tony and Colleen fell in love with the house as I did 12 years ago. They've been absolutely delightful to get to know and work with. I'm anxious to see what Tony does with the yard as he's a talented gardner. The previous owner might be classified as gardening-phobic.
So now it's finally time to move.
I call up U-haul and schedule the delivery of some moving pods for a Tuesday. They sent me a confirmation link and found they screwed up a couple details but no big deal, I fixed it. That should of been a clue.
I've got a college kid, Ryan, who I call for moving help. He and his buddy, Grant, were available Monday. So, I call U-haul and have them change the delivery Monday. No problem they say. They'll give me a callback on Sunday to confirm delivery time.
The call never came.
I call the lady who made the reservation and the change only to find my Monday change turned out to be Wednesday in their system. No surprise, this lady who was now 2 for 2 screwing up reservations wasn't any help fixing it.
So, I spent 2.5 hours Sunday night and another 4 hours Monday morning on U-haul customer service lines. 90% of that time on hold interspersed with empathetic customer service folks who just couldn't put it together and solve the problem.
Cue the afore-mentioned "broken man". If I never hear U-haul hold music again....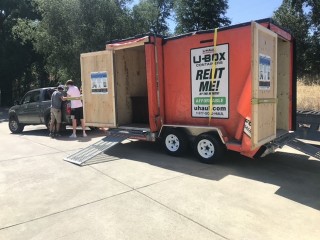 Finally, U-Haul conversation # 8 or #9 found a way for us to pick up the pods ourselves. So our pack, that was supposed to start at 7am, commenced at 3pm. Many thanks to Ryan and Grant who hung in there with me thru Tuesday just in time for our Wednesday close and departure. Whew !
Below is a list of links to lots of good folks who've helped get me thru this year. Some are even DDWD websites 😉
Me, I'm on a plane to go look at an RV. Stay tuned.