...or One Step Forward, Two Steps Back.
Buy an RV. Head north and escape the heat before heading to Florida. That was the plan. Three days of 100°F+ Sacramento heat later.....
I'm a fan of Mike Rowe, the Dirty Jobs guy. He's been preaching for years about the shortage of tradesmen in the US. Well Mike's right.
I bought the RV.
Gave it a good test run driving it from Missouri to California coming back to gather some belongings.
Found a few things to fix and upgrade.
Started calling around...
Learned that RV repairs actually happen at two shops. One takes care of the truck and all the standard truck systems. The other takes care of all the RV specific systems.
Both are booked out for weeks.
Want to upgrade that 2005 radio ? Best Buy's installers are booked for a month !
So, chasing the various shops I am.
The good news, it gives me a chance to squeeze in more golf with my buddies.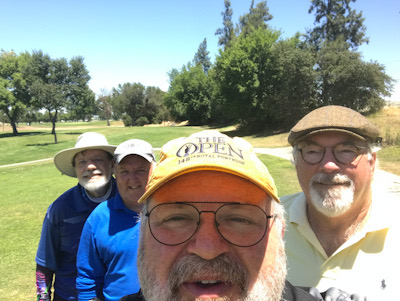 Played my first non-member round in 29 years at Cameron Park CC with the Tuesday Night Scramble guys.
Caught up with the x-Intel Golfbums on the Haggin Oaks Alistair MacKenzie track, a hidden gem of a design disguised as a muni.
Drove down to 20 degree cooler Vallejo to play with Shanghai buddy, Jole, at Hiddenbrooke. Two of those rounds were with my three decade+ golf partner JJ, which is always a treat.
....and oh yah. On the way back from Missouri, played the highly ranked Wild Horse GC in the Sand Hills of Nebraska. The Sand Hills are perfect terrain for building links style golf. Wild Horse was like they took Dingle or Connemara from Ireland and dropped them in the middle of Nebraska. As an added bonus, I was paired with a former Colorado State golfer, James, who played from the tips and had the game to do so. Fun to watch.
Eventually, this show will get on the road again. Some progress is grinding along. I did score a new high tech radio at Paradyme and a new TV at Best Buy. The truck has been inspected and has some items, nothing major to fix.
In the mean time, I'll be knocking on doors around Sacramento and being greeted with "Haven't you left yet ?"